Book your holiday rental in Florence direct with the owners!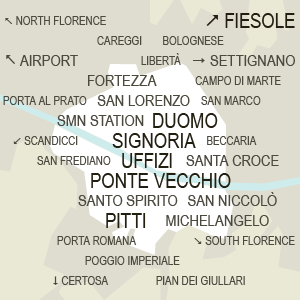 Click on Florence's main areas
Room with a view of the Duomo or on the hills around Florence?
Imagine you're in Florence already: where do you see yourself waking up? A small bed and breakfast just steps from the Duomo or a rustic style apartment in the hills that surround Florence? A boutique hotel with a view of Ponte Vecchio or a farmhouse surrounded by the vineyards in Chianti?
Whatever you dream of, you'll find what you're looking for on FlorenceAccommodation.com with its wide selection of the best lodgings in Florence and province, selected and reviewed by a team that understands your travel needs.
Whether you want to stay in the heart of the historical center or in the hills outside of Florence, you'll find something that matches your needs at the best internet rates. Our guide puts you in direct contact with the owners so that you can ask for and receive an offer customized for your vacation. Compared to other travel sites, FlorenceAccommodation.com does not charge commissions either to you or the owner so that you will always receive the best offer.
If you wish to reserve right now online, you will also find a large selection of hotels in Florence with easy and secure online booking.
So if you're starting to plan your visit to Florence, you've taken the first step to decide and book the place of your dreams!