Holiday Villa & Apartment Rentals near San Gimignano & Florence
---
The Tuscan style holiday accommodations, Borgo della Meliana, located in the picturesque landscape of Gambassi Terme, near San Gimignano are an enchanting mix of exclusive holiday apartments and independent vacation villa rentals.
The elegant decor, accents the spacious bedrooms, bathrooms and living areas - both inside and outdoors make these accommodations ideal for couples, families and groups of friends exploring Tuscany.
Centrally located to the south of Florence in Chianti, Borgo Meliana is in an ideal location for relaxing and visiting the many points of interest in Tuscany.
Top 3 reasons you'll love Borgo della Meliana
WINE COUNTRY
Surrounded by vineyards and olive groves, to be fully immersed in the wine country of Chianti.
FULL RELAXATION
Two pools with massage jets and a jacuzzi are just one component to make sure you let go of daily stresses.
INTIMATE & CONVENIENT
Apartments with their own outdoor area, with all comforts enjoy a Tuscan rural vacation with all of today's modern amenities.
An Estate with a Long History
Within the country resort there are a total of 20 self catering holiday apartments with 1, 2 or 3 bedrooms and three independent villa rentals, two of which feature private pools. All have either an outdoor loggia or a private garden, where guests can enjoy meals, admire the panorama and live the landscape of Tuscany. There is a large garden in common with cypress trees and fragrant blooms, an outdoor BBQ area and even a wood burning oven, for making pizzas.
The original property dates back to 1325, when it was used as an important rest stop for travelers leaving Florence. Running directly in front of the reception office is part of the original via Francigena, the road that led pilgrims to Rome and the Holy Land in Medieval times. Borgo della Meliana is one of the few farms in the area listed as of "artistic and cultural heritage" and the restoration has been careful to preserve the original historical building.
A Lovely Tuscan Atmosphere
The vacation apartments are tastefully decorated with original antiques and comfortable furnishings. Throughout the resort, the designers used warm colors to create a pleasant and welcoming atmosphere. Each bedroom has its own modern and stylish bathroom, and those apartments with sofa beds often include an extra bathroom for the guests comfort. The accommodations spotlight convenience and luxury, including many extras such as air conditioning,heating, satellite TV, WiFi in every apartment and a security box for valuables.
In addition to the self catering apartments, there is the Cottage with pool villa rental, featuring 2 bedrooms/2 bathrooms and its own private pool (4 meters in diameter). The independent Villa S. Adele, 3 bedrooms/4 bathrooms, has both a private garden and large terrace area as well as a private pool (4 meters in diameter) with panoramic views.
Extra Space, Services & Pools
The country resort boasts a well maintained gated garden and park area which sets a lovely stage for events, reunions and special ceremonies. There is a gazebo on the picturesque hillside where couples can exchange vows in a civil wedding ceremony. For business meetings, there is a projection/meeting room available upon request for anyone wishing to use the facilities.
In front of the reception office, there is a large covered terrace ideal for parties, receptions or even a quiet moment enjoying the peace and tranquility of Borgo della Meliana. The reception office and staff are available to answer questions about the area, activities, itineraries, museum tickets and restaurants or wine tastings.
Guests have two swimming pools at their disposal, both with hydromassage jets. Each pool provides a shallow alcove, where children can play or sunbathers can relax in the cool, refreshing waters. The pool area is furnished with chaise lounge and sun screens, and close by, overlooking the pool and the fabulous scenery, there is a dedicated area for those looking for a bit of shcare.
The laundry room offers all guests use of a washer/dryer and iron. For those who like a bit of a workout, if strolling the quiet country roads around the resort are not enough then you can indulge in the gym and jacuzzi.
Equal Distance from the Major Sites
The position of Borgo della Meliana is truly the geographic heart of Tuscany! When you base yourself in this part of Chianti, small towns and cities of art are all close by. Siena, Florence and Pisa are all approximately 1 hour from the country resort, on well maintained and panoramic roads. On those days that you prefer to stay closer to home, you can plan on visiting towns like San Gimignano, Certaldo and Volterra.
Meet the Owner, Giulio Bensi
---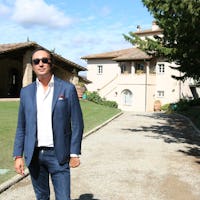 Hello,
My name is Giulio, and I have over 15 years experience in accommodation business.
I studied in the UK, where I perfected my language skills. Before I entered into hosting guests from all over the world, my past work-experience was based on event and PR communication for multinational companies.
Our business slogan:
"Winning key for happy holiday is feeling home abroad"
Hope to see you soon!