Casa Rovai B&B and Guest House



















Experiencing the Florence Center like a Local
---
The Casa Rovai B&B opened its doors in 2005 after a long and detail oriented restructuration. The central position of the guest house is just one of its many strong points and, you will forever remember the clean and spacious rooms, the helpful and welcoming staff and your fantastic vacation in Florence at this bed and breakfast.
The refurbished rooms vary from a contemporary look to a more classical decor both of which feature a lovely presentation of the antique frescos found on some of the walls in the bedrooms. Furnished with comfort and modern accessories like AC and WiFi, Casa Rovai B&B offers a tranquil base for your holiday stay in Florence, Italy.
Conveniently located close to all the main sights, it is easy to navigate a visit to the Duomo, the Uffizi museum and Ponte Vecchio by foot. It's proximity to the city center of Florence, make it easy to use the train station, and visit the amazing towns of Lucca, Prato and Greve in Chianti.
Top 3 reasons you'll love Casa Rovai Guest House
MUSEUMS & MONUMENTS VERY CLOSE BY
Take a stroll & discover the many beautiful buildings, churches and artwork hidden within the city walls of Florence, Italy
SPACIOUS ROOMS ACCOMMODATE ALL SIZES
Singles, couples and families the B&B lodgings satisfy every type of request in a budget friendly manner
PAINTED FRESCOED CEILINGS & ANTIQUE ORIGIN
16th 18th century frescos in amazing colors remind you of the bed & breakfasts antique origins in the city center
The accommodations are separated on two floors of an historic building in downtown Florence featuring a variety of sleeping combinations to satisfy each family's need. The first floor features 6 rooms, two of which have external bathrooms next door, due to this historic floor plan yet they are close to the bedrooms. You will be advised if this is the only available accommodations. Single travelers, romantic couples and families of 3 and 4 persons will find just the perfect room. There is one quad comprised of two bedrooms: a double with a single sofa bed and a connecting single bedroom.
The second floor has a distinct contemporary feel, mixing the original tiled floors, stylized ceilings with a modern decor to create a relaxing and inviting bedroom. There are three accommodations. Upon request they can be arranged with a double bed and a bunk bed to create either a triple or quad room for families or friends traveling together. All of the bedrooms face the internal courtyard, so even though you are only minutes from the city center - the street noise won't affect your tranquility.
Simple, Comfortable & Amazing
The simplicity of the decor, creatively mixing clean contemporary lines with traditional wrought iron bed stands, and family antiques produces a fresh atmosphere. The tranquility and relaxing environment is just what you are looking for after a fun filled day exploring the streets of the city center, shopping at the local boutiques and wine tasting at one of the many nearby enotecas.
The many modern features create a comfortable setting at Casa Rovai B&B and Guest House. There is a free WiFi and Internet access for catching up on emails, browsing itinerary options and keeping in touch with friends and family. The independently run climate control systems assures you just the right temperature weather summer or winter. The rooms are stocked with many basics like a hair dryer, aflat screen TV, and WiFi access.
The setting, within an antique building, placed along one of the roads that was included in Dante Alighieri's haunts when he resided in Florence in the late 1300's, highlights many architectural touches of yesteryear starting with the amazing frescos found in several of the bedrooms during the restoration of Casa Rovai B&B. However, you will also notice the original tile floors, hand painted trim and gray stone steps. The building does not have an elevator and rooms are located on the upper floors. Enjoy the terrace for breakfast, an afternoon coffee or pouring over the available guide books in the common area to plan your next day events.
Breakfast and Mealtime
The staff and owners at Casa Rovai B&B like to surprise their guests with something tasty and fortifying at breakfast everyday: a good healthy Italian styled breakfast of homemade cake, hot croissants, fruit, yogurt and artisanal coffee. However, for those who have heard about the delicious cafes in Florence, Italy or prefer a savory breakfast or even just don't make the breakfast hours in the B&B, they can take advantage of the offer to have the morning meal at a nearby bar, mixing with the locals and the exciting hustle of the morning.
Upon request, you can take advantage of their half board and enjoy an authentic Tuscan dinner made with original Florentine recipes and the fresh produce of the season. The B&B partners with a nearby restaurant for quality service and flavors. This is just another one of their extra services, like reserving museum tickets, restaurant selection and arranging for tours to visit the city, the Tuscan countryside or wineries. Guests often appreciate the free mineral water dispenser, both still and frizzy, which just makes it easy to keep you hydrated as you explore the city and its wonders.
Can't Get Any Closer to the City Center
Casa Rovai B&B makes navigating the city center easy, fun and fast. Located on a road once frequented by Dante Alighieri himself, this area of Florence breathes a mix of historic buildings, quaint shops and typical Tuscan restaurants. The accommodations are an easy walk to many of Florence's amazing monuments including the Cathedral, the Santa Croce Square and the Arno River. If you were looking to appreciate a genuine corner of the city then the staff at this bed and breakfast are ready to assist you in finding the best cafes, nightlife and museum tickets.
Florence is easily visited by foot, so if you arrive with your car you can leave it at the nearby garage (for a small fee) which will arrange for either a pickup or drop-off at your request. When you reserve at Casa Rovai, they will put your car on the ZTL free list, so you can move within the city without worries about a ticket (moving violations not included.) The B&B has an internal courtyard where you can store bicycles. Even more convenient are the train stations, the principal SMN station and Campo di Marte are both located equal distance from the B&B and either offer abundant times to many stops throughout Tuscany, including Pisa, Siena, and Arezzo. There is also easy access to fast trains to Venice, Milan and Rome.
Your Hostess at Casa Rovai B&B Guest House, Stefania & Iryna
---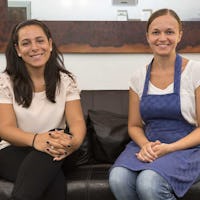 Hello Everyone,
Our names are Stefania and Iryna. We follow our work with passion so that you can have a true Florence experience starting with an unforgettable stay at our family bed and breakfast, which is a genuine piece of Florentine history.
We will take care of you from the moment you step into our tranquil accommodations, including a delicious breakfast, and reserving your place at one of the cities fabulous museums. It gives an immense sense of satisfaction to know our guests go home with great memories and recommend our services to friends and family.