Charming Medieval B&B in Santa Croce, Florence
---
The Casa dei Tintori Bed & Breakfast in Florence enjoys a central position, ideal for visiting the city and its main points of interest. Its five cosy B&B rooms are each furnished in a different color that representative to its namesake, as part of the Florentine textile-weaver guild.
The young couple at the helm of the accommodations bring passion, professionalism and a bright new perspective on how to enjoy your holidays including personalized concierge service & gluten free breakfast menus. The bed and breakfast offers an elegant and welcoming atmosphere, carved out of an authentic piece of Florentine history.
Set in a convenient position close to Santa Croce and the Arno River, the B&B is the perfect base for exploring Florence on your own or with a guided tour. Public transport is nearby, so you can explore outside of the city boundaries with ease.
Top 3 reasons you'll love Casa dei Tintori
THE ROOMS
An intimate atmosphere, tastefully and elegantly furnished, with attentive personal service place to stay at in Florence
FAMILY WELCOME
The young couple that owns and manages the hotel provides an active concierge desk with insider information & special tours.
DELICIOUS BREAKFAST
An Italian styled breakfast includes a variety of fresh baked healthy choices for special diets
B&B Casa dei Tintori, located in a medieval building from around the 13th century, you will find an award winning bed and breakfast in the heart of the city of Florence, Tuscany. This house, like many in the Santa Croce area, was used as a workshop for the weaving and dyeing of textiles, commercial enterprises that were located in the area. The "tintori" or textile dyers were, in fact, part of the Medieval artisan "corporations" or guilds that ruled the economic system at that time in Florence. As you enter into the 5 rooms B&B you will notice immediately how the original architecture was incorporated into the bed and breakfast.
The Comfort of a B&B
The entrance to this special palazzo located in a tranquil street in the heart of Florence, is reminiscent of a small Florentine street. The terracotta reds, the dark wood beams, the brick arches and the friendly welcome create a special atmosphere at La Casa dei Tintori. Each room highlights not only a specific color, but also its own particular brand of holiday comfort. Talk to Riccardo and Lavinia to discover which is best suited for your type of holiday.
The reception area offers a computer with a fast internet connection that guests can use at any time, at no extra charge. The breakfast nook, is open all day with coffee, tea and many times a light snack of cookies and fruit. The owners have sourced a local bakery for fresh baked goodies every morning, upon request that includes a menu rich in gluten-free items.
There is one suite suitable for up to 4 persons; the Green room features a double bed and two single sofa beds plus an en suite bathroom with shower. The Blue room is comprised of two single beds and its own private bathroom. This room is perfect for friends travelling together, students and single travellers exploring Tuscany. All rooms have a special price for single travellers - combined with the location close to shops and stores, this is great for "solo" adventures.
The Santa Croce Area
Being located in the historical center of Florence, guests can quickly and comfortably reach all of the main attractions in the city. Being located close to Piazza Santa Croce, in fact, places the B&B at an easy walking distance from the Uffizi Gallery and Ponte Vecchio and all of the principal museums and monuments in Florence. The Santa Maria Novella train station is about 20 minutes walking distance from the bed and breakfast, which is then the perfect base from which to visit nearby cities in Tuscany.
Meet Riccardo and Lavinia, the Owners:
---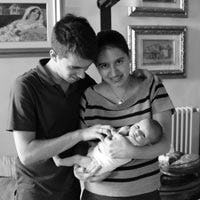 Greetings!
We are Riccardo and Lavinia, the young couple with a recent new addition to the family who welcomes you to Florence and to Casa dei Tintori.
We are full of enthusiasm and have a large spirit of hospitality. Our house offers professional courtesy alongside the warmth of a family home.
We look forward to meeting you and having you as a guest at Casa dei Tintori soon!
~ Riccardo and Lavinia