A Tuscan Holiday in a Magnificent Setting Outside of Florence
---
The prestigious location of Villa Medicea di Lilliano creates the perfect backdrop to your holiday vacation in Tuscany.
Located about 20 minutes from the historic city center of Florence, easily accessible by car and public transport, the villa offers 6 self-catering solutions as well as the possibility of B&B suites with stunning views and a deluxe decor.
Villa Medicea di Lilliano, with its extensive experience in destination events and weddings offers the opportunity to not only celebrate a special event in a positively stunning environment but also to live a piece of Tuscan history in a setting furnished with modern amenities, concierge services and a delicious selection of fine wines made on the estate.
Choose to organize your business meeting, catered event or celebrations while staying in one of the nearby apartments with private pool and garden. Indulge in a holiday where fresh fruits and vegetables arrive daily, weekly maid service is included in the price, a washer and dryer is in each apartment and, most importantly, that mixes comfortable accommodations with the green splendor of Tuscany.
Top 3 reasons you'll love Villa Medicea di Lilliano
AN EXCLUSIVE EXPERIENCE
The concierge service will easily direct all of your requests for a memorable and unique holiday stay in Tuscany
DISCOVER THE ELEGANCE
The mix of classic with contemporary exalts the beauty of the historical residence highlighting the Tuscan architecture
ONLY THE BEST OF WINE & HISTORY
Combine the delicious flavors of Chianti with the deluxe setting of an authentic historical Medici villa near Florence
The sprawling estate of Villa Medicea di Lilliano provides a truly unique backdrop to your holidays or destination wedding/events. In addition to a magnificent garden, spacious party rooms, kitchen and wine cellar as well as accommodations.
Private Villa & Pool
Lodgings at Villa di Lilliano are in two separate areas: the first, the self-catering La Corte residence, is a restored farmhouse next to the main historic villa. It can be rented as a private villa for up to 12 persons or divided into 5 B&B suites each with private bath and panoramic views. The accomodation has a full kitchen, a spacious dining room, living room area and a scenic patio where you can enjoy meals and well deserved relaxation. The private courtyard is just beyond the living area's double glass doors under the shade of a decades-old fig tree and the Medicea villa. The private pool is just a few meters from the accommodations.
When not rented as a private villa, La Corte can be easily be divided into 5 B&B suites which range from 20-30 square meters each guaranteeing intriguing views of the Florentine hills and small nearby towns. The elegant combination of colors and contemporary decor are accented with traditional Tuscan wood beamed ceilings, terracotta floors and wrought iron furnishings.
The subtle presence of modern amenities such as WIFI, flat screen TVs and air conditioning blend perfectly with the timeless appeal of a villa built over 400 years ago for Tuscan nobility. La Corte not only boasts a singular position on the estate but also its own private pool, laundry facilities and weekly house cleaning.
Tuscan Styled Luxury
The second area is detached from the main Medici villa and gardens. The estate has 5 deluxe self-catering holiday apartments, each multi-level to offer independence and spacious convenience. Each apartment is fully equipped with all modern amenities, adding the relaxing aspect to your holidays in Tuscany.
The apartments are named after important figures in the history of the villa. Villa Ferdinando is perfect for 4 persons which connects with Villa Vincenzo to offer a single villa for up to 6 persons. The position of these two villas opens to the surrounding countryside with great garden area and views.
In the same building there is Villa Clementina, which can host up to 6 persons which has a delightful terrace with vistas of the Tuscan landscape as well as a very romantic tower bedroom. The bathrooms in all the villas include his and hers sinks, walk -in showers and lots of natural light.
Villa Alessandro will accommodate up to 6 persons with two full bedrooms and bathrooms and a comfortable sofa bed in the living room and access to a guest bathroom. This villa promises spectacular views, lots of natural light and the possibility to expand through a communicating door to Villa Diletta.
Villa Diletta is the smallest yet it still comes complete with a dedicated space for a living room, dining room and full kitchen. This apartment has a large bedroom with en-suite spa bathroom, and will be your home away from home for both pleasure and business.
These self-catering apartments share a swimming pool, perfect when the afternoons get warm and you can cool off, catch some sun or admire the typical Tuscan setting of olive groves, rows of grapes, cypress trees and soft sloping hills that surround the estate.
The wine estate for enjoying all things wine
Diletta Malenchini has dedicated herself, with the help of a wonderful enological team, to producing an internationally-recognized quality wine. The concierge will arrange for you to visit the historic cantina located under the villa to be followed by a tasting of their wines and extra virgin olive oil. Upon request, they will also arrange for you to learn some secrets of the the Tuscan kitchen with a special cooking lesson directly in your apartment.
The concierge at Villa Medicea di Lilliano is there to help you realize your dreams in Tuscany: a guided tour of private gardens, a walking tour of Florence, a trip into the depths of Chianti or shopping until you drop... simply ask and they will have the right experience for you.
Plan the perfect special event or dream wedding
Villa Medicea di Lilliano's gardens and villa are the perfect venue to create lasting memories. Not only do they have picture-perfect settings, they can also arrange delicious menus, themed parties and, of course, the tempting list of wines to be served throughout. Their partnerships with a select quality list of local vendors ensures that every event and wedding at the Villa turns out perfect. You have only to check out their Facebook page or Instragram profiles where they highlight events and settings to know selecting them as your venue means you will have a fantastic event.
A Small Town Setting
Set in the hills of Chianti just outside of the beautiful city of Florence, Villa Medicea di Lilliano is hidden among the vineyards and olive groves yet it is located only a short distance from the town of Grassina where one can find several small shops, a farmers market on Friday mornings and coffee bars, pastry shops and an active local community.
Note that you could stay here even if you don't have a car: take a bus to Grassina from Florence and then catch a short taxi ride for the last part (it is about a km walk uphill, so with luggage it might not be best to try on foot) or a taxi straight from Florence to avoid the bus with luggage. You can walk up and down the hill to get back into Florence to visit or for a day trip elsewhere in Tuscany - without luggage in tow, that would make it doable.
Villa Medicea di Lilliano is ideally positioned to offer the best of the major sites as well as an introduction to the relaxed lifestyle of Tuscany and the smaller towns. The landscape surrounding the villa invites you to enjoy an early morning stroll (or jog) through the country roads - be sure to bring your camera because the photo opportunities are at every curve in the road.
It is easy to imagine a leisurely breakfast in your self catering holiday apartment, then a quick a trip to Greve in Chianti or Panzano for a light lunch before returning home for an afternoon poolside. At Villa Medicea di Lilliano there is no rush to do anything - just enjoy and relax.
How about combining a stay in the hills of Chianti with a few days in the heart of Florence? The family has the Peruzzi Urban Residences near Piazza Santa Croce to offer you the same quality service and amenities with the comfort of staying in Florence.
Visit it all in Tuscany
Visiting Florence from the villa is a given, but the proximity to the autostrada also makes it even easier to program day trips to Siena, Arezzo and Montepulciano. Take the major highways to get into Siena where you can visit the Duomo or daydream in the one of a kind shell-shaped square.
Select the road less traveled and return home through the winding back roads of Chianti where you can stop at one of the many vineyards for a tour of the cantina and a tasting. Arezzo is an easy 70 km trip; the perfect place to do your antique shopping on the first weekend of any month - or simply to enjoy a town commonly known as an outdoor museum with its numerous palazzos, the Medici fort and roman ruins in the city center.
Though a little further away, a trip to Montepulciano is comfortable because of the Autostrada. Visit the Brunello vineyards, the steep streets of the city and the stunning landscape of southern Tuscany.
Meet Diletta, the Owner of Villa Medicea di Lilliano
---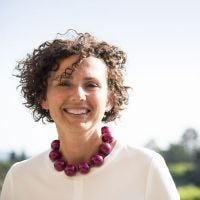 The Malenchini family has always had a passion for travel, elegance and design. "We want to host our guests in a new way, where they can experience our Tuscan hospitality, the organization of events together with the beauty and refined tastes of a vineyard that is truly unique in all of Tuscany."
Diletta takes care of the family estate with passion, looking after the wine, olive oil and fresh fruit and vegetable production as well as the satisfaction of her guests.