Apartments in the Countryside between Florence & Chianti
---
An authentic Tuscan farmhouse, Villa Cafaggiolo has been carefully restructured into 3 luxury holiday apartments for a max of 6 to 9 persons each. Decorated with a country-chic style accenting the terracotta tiles, stone walls and the open wood beam ceilings, typical of the Tuscan architecture.
Complete with many modern accessories including WiFi, AC and microwave these apartments are made to be used: cooking a full meal, an evening by the fireplace, or relaxing under the stars, Villa Cafaggiolo is designed for holiday comfort.
The ideal position of the vacation rentals, nestled between two thriving cities, brings shopping, restaurants and cafes close to your doorstep as well as easy access to major roads for day trips, without ever losing the quiet and tranquility that surrounds the private pool and villa.
For all these reasons, the villa apartments are also ideal for long term rentals, from 3 to 6 months or more. If you're moving to Tuscany or on a sabbattical with your family, the apartments are furnished with all that you need to settle in, whether it's short term as you're looking for another place outside of Florence or in the city or for the full term you'll be spending in Tuscany.
Top 3 reasons you'll love Villa Cafaggiolo
POSITION NEAR FLORENCE
The best of all worlds just 20km from Florence but surrounded by vineyards, olive groves and hills with easy access to main roads for day trips.
GARDEN PARADISE
Comfort and relaxation in a green wonderland with a pool, plunge bath, covered terrace and fresh blooms all around, just minutes from Florence.
INTIMATE & CONVENIENT
Enjoy modern amenities, including A/C and private outdoor area, while enjoying a Tuscan rural vacation.
Vacation Rentals with a Touch of Authentic Tuscany
This 17th century farmhouse, only 20 km outside of Florence, is located in the Chianti countryside surrounded by vineyards, olive trees and tranquility. The panoramic position gives you a magnificent view of the valley and Tuscan landscape. The recently restored farmhouse has been divided into three luxury apartments, each with a unique floorplan and exceptionally spacious rooms. The country-motif decor with hints of red, white and the natural colors of wood, are pleasant and welcoming, inviting you to stay and relax.
Spacious Apartments Furnished in a Tuscan Country Style
Each apartment is furnished with family antiques, original artwork and prints, and delicate hand stitched embroidery pieces by Paola, the owner. You will find a distinct "homey" feel in each one of the apartments, as if you were being invited to stay with friends or family in Tuscany. Not only are they beautiful and cozy but practical with a washing machine, WiFi and new flat screen TVs.
The Michelangelo apartment features two double bedrooms (with an extra single bed) and two bathrooms. The living room is spacious and elegant with a fireplace; this apartment will host up to 6 guests. There is a guest bathroom with shower. The eat-in kitchen with terracotta floor tiles is well equipped for family meals to be savored indoors, and depending on the temperatures, you can also enjoy meals outdoors on your own private patio. The apartment has its own private entrance.
Set on two levels, the apartment named after Giotto - the architect of the Bell Tower next to the Duomo in Florence - is suitable for up to 7 guests. There are two double bedrooms, both with an extra single bed for families with children. You will also find two full size bathrooms: one with a shower and the other with both a shower and a tub. The third bedroom has a single bed and a fabulous balcony with a splendid countryside view. The ground floor has a living room, dining room and kitchen with access to the outdoors and gardens.
The largest of the three apartments is 170 square meters, Brunelleschi, and will house up to 9 persons with three bedrooms and two bathrooms. The vacation rental apartment is set on two floors, and has three double bedrooms, with one bedroom having two extra twins in the loft and another bedroom an extra single bed. The living room provides direct access to the private patio and is divided into two rooms, one of which features a large Tuscan-style fireplace.
The linens are 100% quality cotton, and are included in the prices of the rental. Because of the thick stone walls, the apartments are always cool (night and day) even when it is hot outside - but just in case you can always make use of the AC in each apartment.
Fully stocked... with fun afternoons cooking together!
Upon request, you can arrive and find your kitchen already fully stocked or, if you prefer, they can shop and prepare just a basket with select local flavors including locally-grown honey, extra virgin olive oil, limoncello and red wine. The website has a list of all of the options the owners offer.
Ask about their cooking lessons, where everyone (young and older) gets to participate in the fun. The classes can be an afternoon or spread out over a day, two or three days! You can learn how to make fresh pasta, including lasagne and gnocchi, as well as traditional Italian desserts like tiramisù. Lots of options here, with delicious meals at the end of each cooking class.
If you are the outdoors type, then you can simply relax in one of the many secluded and quiet areas throughout the property, starting with the pool and chaise lounges and then on the loungers under the gazebos spread throughout the grounds.
Guests over the years have always appreciated the services and attention of the Pucci family, your hosts at Villa Cafaggiolo, especially their assistance in booking museum tickets, arranging tours and even transfers from the city or the airport or closest train station.
Enjoy the Scenery
Florence is only a 30 minute drive from the villa or you can head towards the nearby city of Pontassieve and catch the regional train which will take you into the city of Florence hassle-free, with no worries about traffic or parking your car. Upon request, transfers can be arranged, thus no car is even necessary. This is the ideal base for discovering some of Tuscany's lesser known landscapes such as Mugello, Casentino and Valdarno, as well as the more famous itineries to Val d'Orcia, Chianti Classico and the countryside around Lucca and Pisa. The location is perfect if you are looking for a quiet peaceful country setting which is close to shops and typical Tuscan restaurants.
However, you may never want to leave the grounds with the private pool vaunting a spacious deck and colorful gardens. The grounds surrounding the Villa Cafaggiolo are made up of about 7 acres of private land planted with a variety of fragrant roses, hydrangeas, gardenias, citrus plants, herbs, and bay laurels. All the land around the Villa is completely fenced; your children will be safe on any part of the estate.
Meet the Pucci family, your hosts at Villa Cafaggiolo
---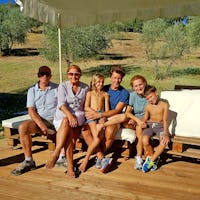 Ciao! Thank you for checking out our villa. I'm Niccolò, I was born and grew up in Florence and I still live in this wonderful city. I'm an architect and for many years I managed holiday villas and apartments in Florence and in the hills around.
What do I like? Horses, Nature, Hiking, Trail Running, Cooking… and I love to interact with new people from different parts of the world.
My family has owned the Villa Cafaggiolo estate for almost 50 years; it took a long time and lots of hard work to transform the old farmhouse which had been abandoned in the 1960s into the amazing, comfortable villa it is now.
We began renting our apartments at Villa Cafaggiolo in 1998 so we have been hosting and meeting people from all over the world for over 20 years now! We hope to meet you too very soon.
You can call or email me anytime with questions or for recommendations; I'm available for information regarding restaurants, museums, shops, tours and anything else that you may need to make your stay more enjoyable. I'll do my best to let you spend a fantastic time here!!!
Best, Niccolò and the Pucci family