Tranquility of the Tuscan countryside
---
A charming and comfortable vacation solution in the heart of the Tuscany countryside not far from Florence, Pisa and San Gimignano. Borgo La Fungaia is nestled in a tranquil community with ample green gardens, private pool and endless vistas of the Tuscan hills.
Accommodations for groups or families of up to 4 persons, these two floor apartments feature modern accessories in a traditional Tuscan decor including a private garden area, parking and easy access to restaurants, shops and local markets.
Drawing on the beauty of the landscape, the traditions of good wine and food and the rich and intriguing history of the region, Borgo La Fungaia has combined all of the best of Tuscany into an exclusive collection of vacation rental apartments for those who want the best while on holidays.
Top 3 reasons you'll love Villa Borgo la Fungaia
SERENE ENVIRONMENT FOR RELAX
Choose to sit by the pool, or look for a private corner in the lovely garden or cuddle in front of the fireplace for a moment of tranquility
IMMERSED IN THE GREEN TUSCANY
Set in a relaxing corner of Tuscany well known for it characteristic landscape with vineyards, olive groves and soft rolling hills
CENTRAL POSITION FOR ADVENTURE
Tuscany at your fingertips, with a short trip in any direction and you will find a new hilltop town, vineyard or museum to explore
Artfully using the rolling hills of the surrounding countryside as inspiration for the architecture, the one bedroom, one bathroom holiday rental apartments at Borgo La Fungaia have a floor plan that allows for immediate access to the gardens and pool. There are three levels, creating an open space and permitting lots of natural light to illuminate the typical country decor. By choice, the owners have kept the apartments simple, yet cosy inviting their guests to truly relax and enjoy their vacation time surrounded by the sounds, perfumes and colors of Tuscany.
Ideal Vacation Base for Couples & Families
The ground floor of the vacation apartment features a corner kitchenette with vaulted ceiling, furnished with a refrigerator/freezer, burners, electric oven, and many useful kitchen appliances like an electric kettle, dishwasher and coffee maker. The apartment comes furnished with bed, bath and kitchen linens and all necessary table and cookware for creating wonderful Italian meals using the delicious natural ingredients found at the open air markets and specialty shops nearby. Enjoy your meals outside near the BBQ or inside at the kitchen table with either a cosy fireplace or a wood burning stove for company.
The ground floor of the apartment also includes a full bathroom with Italian-styled ceramic tile, a shower, bidet, WC and sink. The bathroom includes a full set of towels for everyone staying at the apartment as well as a hair dryer. Guests have access to a clothes washer, iron and ironing board and means for hanging clothing and bathing suits to dry.
There is a large double bedroom with a traditional wrought iron bed stand, wardrobe and window. The floors are in the typical terracotta tile and all rooms look out on the well maintained garden areas surrounding the apartments. Upstairs is a loft area which offers extra living space or, upon request, the sofa bed can open up to a double bed for another couple or 2 children.
Savor the Beauty of Tuscany
Each apartment has its own dedicated garden space (approx. 50 square meters) with tables, chairs and umbrella. Situated close to the holiday rental, it is easy to organize outdoor meals, picnics or simply sip your early morning cappuccino as you watch the sun peek over the horizon. The shared pool area, only a short distance from the accommodations, gets full sun and provides ample seating arrangements. Even joy a dip in the refreshing waters or choose to sit in the shade and relax.
There are shops, restaurants and ample opportunities for small local markets all very close by. Tuscany, busy with many small towns, offers lots of possibilities for discovering something new and off the beaten track as well as the more popular towns like that of San Gimignano (8 km), Volterra (22 km), Gambassi Terme (11 km) and Certaldo (15 km). For those looking to explore the famous monuments and artistic treasures of the region, day trips to Arezzo, Siena, Pisa or Florence are all within a easy day trip. Even the coast of Tuscany with is famous sandy beaches is less than an hour away.
My name is Francesco from Borgo La Fungaia
---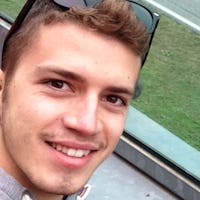 My parents & I will be your host for the holiday apartments described above. For the last 5 years we enjoy having the opportunity to introduce guests to this marvelous area in Tuscany. When I am not busy assisting those who come to stay with us with information about the area, I am involved in construction.