Wonderful farmhouse in the hills of Chianti near Florence
---
Tenuta Moriano holiday apartment rentals in Montespertoli are situated between Florence, Siena and San Gimignano in an extraordinary location perfect for those wishing to enjoy a relaxing holiday immersed in a dreamy landscape in Tuscany.
The totally restructured Tuscan farmhouse features spacious and comfortable vacation apartments for families and couples, with gazebos and patios. There is a large lovely pool set in a panoramic position to enjoy not only the family vineyards but also the marvelous Tuscan sunshine.
Sports, nature, tradition and culture are the special ingredients for your stay in Tuscany at the Tenuta Moriano not to mention the delicious wines which you can sample!
Top 3 reasons you'll love Tenuta Moriano
POSITION
The farmhouse is located in the Chianti region, in the center of Florence, Siena, San Gimignano and Vinci
WINE TASTING & VISIT TO THE CELLARS
You can sample the prestigious wines of Tenuta Moriano as well as visit the vineyards and wine cellars, enjoying various winerelated activities
LOCATION
You will be immersed in a large park, which can be admired in all its beauty thanks to the panoramic view of the estate... as well as great sunsets!
Tenuta Moriano is a family-run estate specializing in producing excellent wines from the Montespertoli area and offering self-catering vacation apartment rentals surrounded by their vineyards. At the center is a large casolare offering high standard services, decor and furnishings. The farmhouse called Casolare San Lorenzo is a newly built farmhouse consisting of 10 one- and two-bedroom apartments designed to offer maximum comfort and stunning views while maintaining the Tuscan country ambiance. They host from 2-6 guests, depending on the apartment.
From the apartments, you easily arrive at the pool area which has a large 9x20meter pool with a separate smaller one for children.
A Prime Position in Tuscany
Close to the thriving little town of Montespertoli (5.5 km), Tenuta Moriano is in an ideal position for restaurants, a cappuccino at the bar, shopping for handcrafts, local culinary specialties and many times traditional festivals and sagras are organized here. The team at the reception desk is always ready to help you find something new to explore in their territory, as well as help you arrange for guided tours of Florence, booking tickets at museums, art lessons or reserve your spot at one of their on site events, like a wine tasting, eno-trekking, cooking lessons and the Saturday buffet.
Plan a Family Event Here
You can't help but fall in love with the well-kept gardens which are bordered on all sides by the vineyards and spectacular views of the Chianti landscape. The gardens surround the pool area and provide a zone to relax, have fun and truly enjoy your holidays in Tuscany. The pool area is especially designed to accommodate children, and is well-furnished with sun loungers, tables, chairs and umbrellas. And if you are thinking of a destination wedding, you have found your location. The lush rose gardens will make the ideal backdrop for your wedding ceremony and party! There is a common room where art courses, yoga lessons, family reunions and parties can be arranged.
Typical Tuscan Comforts
The apartments are furnished in a typical Tuscan decor, rustic yet comfortable, complete with modern accessories to make your holiday stress-free. The fully furnished kitchen in each provides an area where you can explore re-creating the new and exciting flavors of Tuscany, experiment with the fresh fruit and vegetables you can buy from the local markets. Add some grilled meat you can BBQ in the shared grilling area, pecorino cheese and a bottle of the local Chianti wine and you will have the perfect meal to eat on your own private patio or terrace area. There is a shared laundry area with a washer and iron. You can access the free WiFi in the shared common room.
The Beauty of An Adventure in Italy
Plan your adventure in Tuscany to include the many local sites and towns, just a short distance from Tenuta Moriano. A visit to San Gimignano will surely delight all ages with its medieval towers. Drive over to Volterra and maybe even a little further and include a bit of time on the Tuscan coast and its prized Blue Flag beaches. And you don't need to go far to find the road to Chianti Classico, Greve and Panzano where you can visit the small towns, their wineries and wine shops. Florence and Siena are both less than an hour away, and promise wonderful days with their many museums, their rich history and their quaint picturesque streets to wander.
The Place to Be for Your Holidays
The ample garden space around Tenuta Moriano creates an environment that while accommodating families with children and their need to play and have fun also leaves room for romantic walks along the estate's own private via dell'amore. There are games (trampoline, soccer) and quiet corners with tables and chairs overlooking the vineyards. The family estate encompasses all that is traditionally Tuscan - warm hospitality, good wine and fantastic landscapes - making it a great place to plan your next holiday in Tuscany.
Meet the Panconesi Family, Owners of Tenuta Moriano
---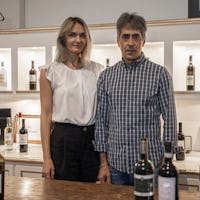 Our family is from Chianti, and very closely tied to our agricultural roots. Tenuta Moriano is our wine estate since 1990, we've built it on our core values which also guides us in the special attention and care we offer our guests and in the quality of our wines.
At Tenuta Moriano, you'll find people passionate about their work, an authentic Tuscan atmosphere and setting which will allow you to appreciate the best side of Tuscany. We look forward to welcoming you to Chianti!
~ Riccardo and the Panconesi family