Luminous Holiday Apartment near Santa Croce
---
Just a short distance from one of the more spectacular squares in Florence, the self catering apartment for up to 4 persons finds itself close to the heart of the historic center and the Santa Croce Church.
Luminous and spacious it is situated on the third floor of a building with an elevator and features a balcony and a splendid view of life in the city.
The newly renovated decor, is furnished in a modern style and offers many comforts and extras, including AC, WiFi and a flat screen TV. The building is equipped with an elevator and there is parking garage.
Top 3 reasons you'll love Santa Croce - MyFlorenceHoliday
GREAT POSITION NEAR THE CITY CENTER
Situated only minutes from the Santa Croce Square, restaurants & supermarkets, it is close to downtown Florence
COVERED PARKING DOWNSTAIRS
No worries about ZTL or where to leave the car over night, use the convenient parking lot!
ATTENTION TO DETAIL & CLEANLINESS
Your hosts take extra care in preparing the apartments for each new arrival
Enjoy the City while Staying at this Apartment
This is the perfect position for discovering not only the sites, sounds and magic of Florence. In addition, the location make it easy to travel and visit all of Tuscany with the use of the trains, buses, even organized tours or your own car. The holiday rental is close to Teatro Verdi, for concerts and theater productions; the apartment invites you to enjoy not only a wide range of museums and monuments, but also the busy cultural activity in Florence.
The rental apartment, Santa Croce has one bedroom and one en suite bathroom with shower and is suitable for up to 4 persons. The living room includes a double sofa bed, access to the balcony, a flat screen TV and DVD player. This apartment is decorated with a stylish and elegant decor incorporating modern comforts in a spacious and luminous environment. The kitchen which is fully furnished with stove, oven, microwave, dishwasher, refrigerator, freezer, also has a complete set of utensils, pots and dishes.
The double bedroom, with its white brick accents and tile floor, is furnished with a large closet for storing your clothes and extras. The en suite bathrooms, comes with a sink, shower, bidet & WC with red Levanto marble accents. There is also the added convenience or your own private washing machine.
Culture & Museums in the City
Find your way easily around the romantic city of Florence! Spend time at the wonderful museums, like the Uffizi (less than 10 minutes by foot) or Accademia (just 15 minutes) and make time to window shop in the many artisan boutiques. The apartment is in an excellent area for restaurants with authentic Tuscan menus, top rated gelato shops, banks, a post office and supermarket. Buses run all day practically in front of the apartment, making it perfect to visit monuments, churches and museums just a little bit further away. It is an active area, with several pubs and bars for a little bit of local culture and you will find it safe to walk around both day and night.
Explore the Stunning Landscapes of Tuscany & Italy
The parking lot assures a trouble free and secure area to keep your car, avoiding those troublesome ZTL zones. The easy-to-navigate city streets are within quick reach of the major roads entering and exiting Florence, so that day trips are simple to program while staying at Santa Croce. The main train station (SMN) is 20 minute walk from the apartment, where you will finds both rapid (Intercity) and regional trains that go in all directions. Use the train to visit places like Rome and the Vatican or head north and sail the canals of Venice. Day trips to Casentino, Mugello and Chianti are all about an hour away where you can enjoy great Tuscan scenery, wine tastings and even bike trips. The apartment is close to the river where you can go jogging on one of the near by paths.
MyFlorenceHoliday Apartment
---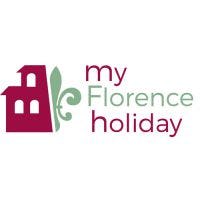 MyFlorenceHoliday offers a selection of accommodations for short term rental in the historic city center of Florence, close to major monuments and museums. The self catering holiday apartments and rooms are within walking distance of Ponte Vecchio (the Old Bridge), the Uffizi and the Church of Santa Croce. The apartments are situated in exclusive zones of this City of Art, with easy access to many services and comforts.