Bright Apartment in Florence Center
---
The apartment is located in the San Frediano neighborhood, one of the most characteristic areas of the center of Florence where you can still breathe the authentic atmosphere of the Renaissance city.
The small craft shops, markets in the squares, typical restaurants and local nightlife make the Oltrarno area one of the liveliest in all of Florence.
The Oltrarno apartment is located on the second floor of a beautiful building of the 1600s. Recently renovated, the apartment offers a modern and welcoming environment ideal for a holiday exploring the historical and artistic beauty of Florence.
Stay in the heart of Florence
The holiday apartment has a bright spacious living area, consisting of a large open kitchen and a cozy living room with a comfortable sofa bed. The apartment is ideal for 2-4 guests. The bedroom has a romantic four-poster bed and enjoys a beautiful view over the rooftops of Florence and nearby gardens. Upon arrival, in addition to all of the kitchen essentials, guests will find some basic staples in the kitchen (coffee, sugar, tea, etc ...) useful to start your stay in the apartment.
Just 200 meters from the apartment, you'll find a large enclosed parking area on the street (you do have to pay) that sits outside the ZTL area. Is also possible to find free parking nearby. In both cases you can park your car and walk easily to the apartment.
A real Florentine holiday
The Oltrarno flat is the perfect choice for a holiday in authentic Florentine style, not as mere tourists. Besides enjoying the classic routes of the most beautiful monuments and museums of Florence, you can take part in the lively Oltrarno district, going between the little shops, artisan workshops and cafes like real Florentines.
The apartment is situated a short stroll from all of the main sights in Florence: Piazza Santo Spirito, Ponte Vecchio, the Uffizi, Palazzo Vecchio, the Duomo and more!
Tiziana e Ruggero, the Owners of Oltrarno Apartment
---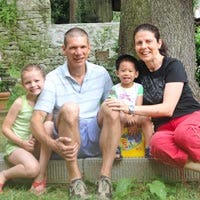 Ruggero is an agronomist, born in Umbria but after living in Florence for so many years, he is practically a native of the city. Along with Tiziana, their two daughters and beagle dog, they call a large turn-of-the-19th-century house their home where they welcome guests from all over the world, the guest house Il Palagetto in Florence. Ruggero loves spending time outdoors and hiking in the mountains, gardening, winter sports and anything related to the automotive world. He speaks English well, and basic level French and German.
His wife, Tiziana, is a landscape architect and interior designer, and her imprint can be seen in the restoration and furnishings of guest House. Tiziana speaks French pretty fluently and feels comfortable in speaking English as well.