In the Florence Countryside with Hilltop Views
---
The newly restored Olmofiorito Agriturismo features 12 self-catering apartments, breathtaking grounds, beautiful landscapes and is a pet friendly property. The elegant decor features modern accessories, AC and WiFi.
Experience the best of Tuscany and Chianti wine country when you escape to these tastefully appointed resort styled holiday apartments less than 30 minutes from the historic center of Florence.
Located on a family run farm, 220 meters above sea level, the vacation rental accommodations promise stunning views, tranquility and easy access to day trip travels and tours.
Top 3 reasons you'll love Olmofiorito Agriturismo
ELEGANT & INVITING
The owner personally selected a cozy yet refined style for the interiors assuring comfort while accenting the natural beauty of the antique buildings
HILLTOP VIEWS FROM POOL
Relax poolside with the tupendous Tuscan landscape surrounding you including olive trees & vineyards accenting the agriturismo's sambiance
THE FLAVORS OF TUSCANY
The farm produces both a delicious organic extravirgin olive oil & an excellent DOCG (Controlled & Guaranteed Denomination of Origin) Chianti wine
Explore the best of Tuscany and Chianti at these luxury 12 vacation rental apartments which sleep up to 64 persons. With spacious, lovely interiors and a picturesque, green exterior, these beautiful accommodations are ideal for families, friends or couples traveling together. With a daily cleaning service upon request, private pool, WiFi, AC and close proximity to Florence, hiking trails, shops, restaurants, and more, this alluring abode will not disappoint.
Tuscan Elegance for your Stay
The farmhouse is entirely immersed in nature, looking out over a panoramic view of the Arno valley and it is surrounded by olive groves and Tuscan landscape on the other sides. There is a large garden area with sun loungers and benches surrounding the pool. The main structure embraces a stone courtyard, which is guarded by the characteristic Tuscan cypress trees. The apartments, all with private independent entrance ways, look upon the courtyard and the lovely Chianti landscapes.
The 12 self-catering apartments are set on both the ground and first floor and will accommodate from 2 to 7 guests. Each apartment features a unique floor plan which incorporates the original architectural beauty of the buildings, such as stone steps, open wood beam ceilings, fireplaces or stone arches. Most apartments are made up of a living room with sofa bed, a dedicated kitchen area, a main double bedroom and a full bathroom. Calla is the largest apartment with two bedrooms, two bathrooms, and room for up to 7 persons.
Full Accessorize for your Comfort
The apartments have been elegantly furnished with quality linens, mattresses, and furnishings from top Italian brands. It is easy to appreciate the memory foam mattresses with "Frette" Italian sheets, down comforters and premium bedding The rooms have been fitted with AC and WiFi access as well as a VOIP phone system for national and international phone calls.
There are three apartments with a private garden area for outdoor meals and the other apartments share the spacious garden.
The kitchens are furnished with a dishwasher, microwave and a complete set of table and cookware for preparing delicious meals at home. The non-smoking apartments are also supplied with hair dryers, espresso makers and 32-inch flat screen TVs in the living room. Housekeeping is offered on a daily basis for a small fee and hypo-allergenic bedding can be requested.
Exploring the Tuscany Hills
The strategic position of the hilltop agriturismo makes planning a well-rounded itinerary around Tuscany easy and fun! Everywhere is easy to get to because Olmofiorito is well connected to major communication roads. Head into Florence in less than 30 minutes or visit Pisa, San Gimignano and Chianti with a scenic route in just about one hour. The road that leads to the vacation apartments is flanked by vineyards, olive groves, and cypress trees, characteristic of the Tuscan landscape.
The accommodations provide both a tranquil setting to relax and unwind or possibly a fun-filled refresher with family and friends, as well as picturesque travels to places like Val d'Orcia, Montepulciano, and Arezzo. You will even find that fabulous Tuscan beaches or the charming Cinque Terre are close enough for an exhilarating day trip.
Welcome to Olmofiorito Agriturismo
---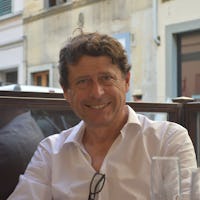 The Olmofiorito Agriturism comes about thanks to the farm of my father, Dario Ciaschi, who produces olive oil and DOCG wine since 1990. The buildings that you see now have been restored in a long and tedious procedure, and after 4 years of hard work we are proud to open to the public.
Totally immersed in the vineyards and olive groves the apartments promise a tranquil and serene environment with stunning views.
The entire family is looking forward to meeting you in Tuscany: Dario, his wife and his daughter.