Tranquility & Convenience Just Outside Florence
---
In an antique mill passed down through the generations, you will find the vacation apartment rental Nuvola sul Prato.
This enchanting one bedroom apartment, in soft pastel colors, is set in a charming corner of Tuscany, just outside the hustle and bustle of Florence.
Close to shops and restaurants, the apartment is convenient for those travelling Tuscany who appreciate privacy and tranquility.
Top 3 reasons you'll love Nuvola sul Prato
FANTASTIC POSITION NEAR THE CITY CENTER
Located in the outskirts near public transport & local highways for Pisa, Siena, Arezzo & more
FREE PARKING
No problems of where to keep your car safe, use the private free parking at the vacation house
A DELICIOUS ORGANIC or VEGAN BREAKFAST
Your hosts care about you and provide a nourishing and fortifying meal to start your day
Comfy & Cozy Vacation Rental
The Tuscan vacation rental apartment is your perfect base while away from home, small and welcoming nestled in a quiet and tranquil area of Florence. Recently restructured, it is furnished with a "retro" look that is inspired by the countryside of Tuscany. It will host up to four persons, and is ideal for couples who are looking for a quiet haven for a romantic vacation, or a small group of friends or even a family with small children.
The apartment is composed of two rooms plus large bathroom. The main room has a kitchenette, where you will find everything necessary to prepare your meals at home, experimenting with the flavours of Tuscany. A special touch is the stone sink, reminiscent of the traditional sinks found in the Tuscan farmhouses, there is also a refrigerator, stove and ample counter space. There refinished wood dining table and chairs and a comfortable sofa, which upon request can be used as a double bed.
The double bedroom, which is spacious and luminous, proposes a whimsical view, where you can gaze upon the Certosa of Galluzzo, a spectacular monument south of Florence from the 1300's. The apartment is decorated in a simple style lending it a distinct country feel, romantic and pleasurable. The house comes with all the necessary bed, bath and kitchen linens. In addition, offers a healthy and flavourful breakfast, 100% organic and local ingredients.
Ideal Base For a Holiday in Tuscany
The vacation rental home "la Nuvola sul Prato" is located in a small and tranquil little town near the Certosa in Galluzzo, just outside of Florence. Though small, it is well furnished with everything to make your vacation easy: a large supermarket, drug store, banks, shops, restaurants and pizzeria as well as an open air market for fresh veggies, fresh bread, cheese and fruits. There is a lovely park where you can do some early morning jogging, a leisurely walk or a refreshing picnic.
Less than 15 minutes from the historic center of Florence, means you are close to museums and cultural events but far away from traffic. The apartment rental is situated in a strategic position for those who love art, nature and are looking for a holiday filled with relax and good food. It is the ideal base for your vacation in Florence and for exploring all of Tuscany, especially if you want to travel Chianti and the small towns that dot the hillsides just outside of the city center.
The vacation rental is easily reached by public transport (ATAF bus lines 11.36 and 37) from the main train station in Florence (SMN) and those who have a car will find it easy to access the main highways A1 and A11 as well as the main road connecting Florence to Siena. There is free parking for the guests.
Meet Chiara, the owner of Nuvola sul Prato
---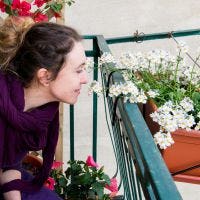 Hello to Everyone!
My name is Chiara, I am restorer and decorator, I love art, nature and animals. I teach and study yoga, enjoy horseback riding, two dogs and vegetarian. I love to cook!