Boutique Bed and Breakfast in Santa Croce Florence
---
Le Stanze di Santa Croce is located in the historical borough of Santa Croce, right in Florence city center.
This charming Bed and Breakfast offers 4 comfortable and colorful rooms in Florence center, equipped with modern comforts.
Characterized by cozy and familiar atmosphere, this B&B is a pleasant accommodation in Florence to get the best out of your holiday.
Mariangela, the owner, welcomes every guest with a friendly and kind smile. The rich and delicious breakfast includes a large variety of home-made cakes, jams and biological honey, as well as local salami and chees.
Furthermore at Le Stanze di Santa Croce guests have the chance to cook and eat great Tuscan food. The owner organizes cooking lessons, both for guests and outsiders. She teaches the secrets of hand-made pasta, the pleasures of cooking an Italian dinner for friends.
Top 3 reasons you'll love Le Stanze di Santa Croce
LOCATION
In a neighborhood where you can still breathe genuine Florentine atmosphere with local markets, artisan workshops and historical trattorias
COOKING SECRETS
Go to the local market, then learn to prepare family recipes and enjoy your delicious meal together
HOSPITALITY
Feel as if you're at home as you enjoy tea or coffee or read a book on the terrace or in the sitting room or enjoy a chat with Mariangela
This charming B&B in Florence center is set in an elegant building from the XVI century. The palace was commissioned from the Da Cepparello family, probabily designed by famous architect Giuliano da San Gallo. It is characterized by a long running-stone bench.
Services
The residence offers Internet connection, both from personal laptops via Wi-Fi and from public pc station.
Guests can choose from a vast selection of tea and infusions or cold drinks from the frigo-bar to relax while sitting on the nice BB balcony.
The owner will be glad to reserve museums tickets, best reasturants and guided tours for her guests.
Cooking lessons and tours
Le Stanze di Santa Croce organizes cooking lessons for both B&B guests and outsiders, for learning the ancient tradition of Tuscan food.
The cooking courses that Mariangela, the owner, organizes are about buying local food at the market, making and cooking (and finally, but mainly, eating!) fresh pasta and traditional Tuscan dishes, wine and cheese tasting.
Furthermore Mariangela organizes visits to hidden artisans' workshops in Florence. These are pleasant walking to discover another side of Florence, uncommon itineraries for discovering the most hidden secrets of our beautiful region.
Location
The residence is set in a noble building overlooking an ancient street in Santa Croce borough, called Via delle Pinzochere, between the Basilica of Santa Croce and Via Ghibellina. Few steps away from the main door stands the House Museum of Michelangelo. The Uffizi Gallery, Ponte Vecchio, the Duomo and other major Florence attractions are located within walking distance.
Le Stanze di Santa Croce B&B is located within the ZTL area in Florence. It offers special parking rates for reserved parking.
General conditions
Check-in can be done at any time during the day. Check-out on departure has to be done within 10.30 a.m.
Meet Mariangela...
---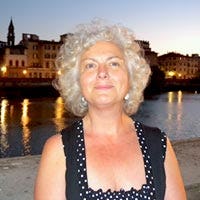 Welcome!
When I travel, I always seek a place that feels welcoming, with a local atmosphere and where someone can suggest the best place to go for a special meal or a romantic walk.When you come to Florence, I hope to offer the same to all of my guests: see you soon!
~ Mariangela