Il Giglio D'Oro Guest House










Guest house with garden near Florence center
---
The Florence guest house Il Giglio d' Oro, managed by a young Italian-French couple, was recently renovated highlighting the typical Tuscan architectural accents creating a welcoming and comfortable atmosphere.
All the bedrooms are furnished in delicate pastel colors and boast a large en suite bathroom, air conditioning and a hairdryer.
The owners will welcome you with helpful information on how to navigate the Florentine streets, reserve space at your local museum and direct you to tasty and traditional cafés nearby for a classical Florentine breakfast, aperitivo or a moment of relax and people watching.
Top 3 reasons you'll love Il Giglio d' Oro
NEAR THE HISTORICAL CITY CENTER
A short walk or bus ride through the picturesque streets of Florence to major attractions and fashionable shopping
GREEN AREA
After a long day enjoying the sites and atmosphere of the busy Florence streets relax in a refreshing and tranquil garden
RELAXING DÉCOR
Soft pastel colors, wrought iron bed stands and typical Tuscan accents like terracotta tiles and stone stairwells set the ambience
Il Giglio d'Oro feels like a home away from home
In the busy and exciting city center of Florence, il Giglio d'Oro will exceed your expectations of a relaxing and comfortable guest house set in a typical Tuscan styled villa. The owners Edo and Celia have dedicated themselves to creating the perfect atmosphere for couples, families and singles staying in Florence, especially for those who appreciate the personal touch of tried and true locals offering tips and helpful suggestions on the best way to enjoy this city of art. There are four spacious bedrooms each with its own large en suite bathroom, air conditioning and several homey touches, like rocking chairs and throw pillows.
A taste of romantic Florence at Il Giglio d'Oro
Each room has a large window and in one case a romantic balcony, allowing for lots of natural light.They are decorated in soft pastel colors creating a revitalizing atmosphere, the perfect place to end a busy day touring Florence, visiting Fiesole or a day trip into the nearby hills and vineyards. The bedrooms and are fully furnished with wrought iron bed stands, an area dedicated to relax with chairs or rocking chairs, a small table, air conditioning and a colored TV. The guests are furnished with all bed and bath linens, as well as a hairdryer and Wi Fi connection. Edo and Celia opted to restore the villa and highlight the many special typical Tuscan architectural accents. You can admire the floors which are original Tuscan styled tiles in artistic designs, the stairwell cut from the traditional pietra serena or the stone walls in the garden area.
A minimum stay of 3 nights is required.
See Florence like a native: food, sites and sunsets
Set in a quiet residential area, you can be sure to enjoy the flavours of a true Tuscan meal, since the restaurants cater to a primarily local crowd. And you can trust Edo to send you to the best cafes for an authentic Florence breakfast, choose an espresso or a cappuccino with a crusty warm pastry. Edo and Ceclia will also provide you with all the necessary info to book visits to the many museums, show you how to use the public transport which stops right in front of the guest house or help you rent bikes and plan day trips. They are a wealth of information and their friendliness and sincerity are apparent in all that they do. From il Giglio d'Oro not only can you visit the winding alleys and lanes of Florence, but you can go and admire the Roman ruins and sunset from Fiesole, only a few minutes on the bus.
Il Giglio d'Oro guest house is central to … everywhere
While staying in Florence, one can easily take day trips to several attractions nearby such as Pisa, Lucca or Bologna. Either by car or by train, this historic towns are easily accessible and have much to offer. However, if you prefer a little more nature on your tours then you could explore the Chiantigiana and its vineyards, or the castles in Casentino or the parks and villas, like Villa Demidoff in the countryside just outside of Florence. This is an ideal position to enjoy all of Tuscany while staying in a comfy, peaceful and welcoming atmosphere.
Meet Edoardo and Celia, the Owners of Il Giglio d'Oro
---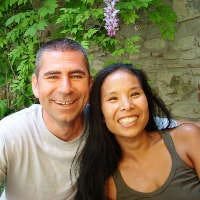 A small stone and brick villa, with a quiet, stone garden, basic rooms and a welcoming, familiar atmosphere. This is what you'll find at our guest house Il Giglio d'Oro, where we've furnished and personalized our home to make our guests feel comfortable and see it as a place where they could come back to as if it were their own home, a place they can share and enjoy with friends.
~ Edoardo