Sitting High in the Hills Northeast of Florence
---
The farmhouse I Nidi di Belforte, whose origins go back to the Middle Ages, is part of an agricultural farm producing extra-virgin olive oil and saffron, as well as harvesting high-quality chestnuts, a typical product of the Mugello valley.
The farmhouse is divided into 7 self catering apartments, which have been restructured and furnished in a traditional country style, featuring all the comforts of home in a distinctly Tuscan landscape.
Located less than 50 km from the city center of Florence, I Nidi di Belforte features the beauty of Tuscany with its natural landscape, small medieval towns, genuine Tuscan cuisine & Chianti vineyards.
Top 3 reasons you'll love I Nidi di Belforte
FAMILY RUN ACCOMMODATIONS
Your hosts live next to the agriturismo & offer you the charm & comfort of Tuscany along with their knowledge of the area
NATURAL TUSCANY
Surrounded by open fields & woods with a fantastic a visual of the Tuscan peaks. Bring your MTB & hiking shoes, to explore the trails
FANTASTIC POSITION
Located just northeast of Florence, it is a great base from which to explore Chianti, Mugello, Pisa & either coast of Italy
The farmhouse I Nidi di Belforte is the perfect solution for all those who want to spend a natural holiday in Tuscany while located within an easy distance for discovering all the cultural and art attractions of this region. The self catering apartments were carved out of an antique farmhouse which holds a few fascinating surprises preserved within the various accommodations. The characteristic thick stone walls, the terracotta floors and the open wood beam ceilings create an special cozy atmosphere where families, couples and groups will feel at home.
Country Styled Charm
The farmhouse offers independent self catering apartments apartments are comprised of a private entrance and small garden, a kitchen area, cozy fireplace, independent heating. The windows of each apartment all capture a special corner of the contaminated landscape, as well as the refreshing breezes that flow in from the nearby mountain peaks. The typcial country decor reflects the colors and utility of Tuscany, both comfortable and inviting.
The owner's, who live next door, are available to assist, pointing out nearby restaurants, sites to see and trails to follow by foot or by bike. They can provide help in finding local markets, identifying delicious recipes and active vineyards as well as assist in practical matters like booking your tickets to the museums in Florence. On site you will find WiFi service and a laundry room.
Sit Back and Enjoy the Splendor that is Tuscany
The I Nidi di Belforte offers a panoramic swimming pool where guests can enjoy the breathtaking view over the countryside, or simply take a rest. The pool is supplied with loungers, tables and chairs or you can roman the property and find one of the many little relaxing outdoor corners for a coffee break or a your own private happy hour celebrating the vista. There are some dedicated common rooms where one can play billiards, or organize meeting or small conferences. Upon request, the owner can also arrange a test tasting Tuscan dishes.
Only a quick walk from the agriturismo, guests will find several trails to follow, some of which lead into the green forest with no specific destination - perfect for a picnic. Other trails will take you to medieval towers, mountain peeks or open up to more stunning views. This is an ideal area for MTB and serious hikers, the areas is rich both in beauty and challenges - giving you ample paths to follow depending on your curiousity and strengths, ask the owners for more details.
So much to do while on holiday
In the area near the farmhouse guests will find the international motor-racing track of the Mugello, the "Poggio dei Medici" Golf Country Club, tennis fields, horse riding and the Lake of Bilancino where you will find sailing clubs and a few sandy beaches. In Reggello, for anyone who loves shopping and designer labels, a visit to the outlet stores at "The Mall" is in order. Here you will find Armani, Dolce & Gabbana, Yves Saint Laurent, Loro Piana and many other designer brands at discounted prices.
The farmhouse is immersed in the green hills that surround Florence, in the valley of Mugello, where the Medici family that so helped sponsor the Florentine Renaissance had its roots. Without traveling too far, guests can visit towns like that of Dicomano, a small and characteristic village near Florence offering all the main services. Siena, Arezzo and other Tuscan cities of art are located at a short driving or train distance, as well as the peculiar medieval villages that characterize the Tuscan landscape.
The Neri Family, owners of I Nidi
---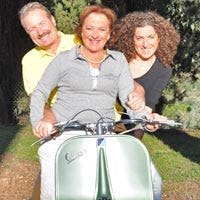 Are you looking for a special place where you can free your mind from the chaos and problems of everyday life? Here we are... we and a stay at our farmhouse can help! Our farm offers peace, tranquility and relax.
During your stay, we can offer suggestions to visit the main sights as well as tips for exploring the countryside and, at the end of the day, come back "home" to rest and recharge.
What about simply enjoying the view from the panoramic pool? The sensation will be of being at the top of the world! Your children will make new friends as they play, you can rest easy that there are no dangers nearby.
What are you waiting for? We are here to welcome you with warmth into our home and will always be here to offer any assistance you need.
~ Nara, Enrico e Irene