A Peaceful Vegetarian Haven in the City of Florence
---
Born from a desire to create a special place for those who want to travel and maintain their bio / vegan / vegetarian lifestyle even while discovering the beauty and excitement of Florence, B&B La Nuvola Sospesa is a luminous treat for families and singles traveling in Tuscany.
Three bedrooms in rich earthy tones have been newly decorated to capturing the natural lifestyle of a bio/vegan diets with Km 0 products and time to relax and reflect on the beauty which abounds in Florence and Tuscany.
Positioned between the historical center of Florence & the Cascine Park, one of the largest green oasis in the city, you can find trails, outdoor yoga & concerts and a unique view the Arno River for biking & jogging while visiting museums, monuments & art.
Top 3 reasons you'll love B&B La Nuvola Sospesa
VEGAN/VEGETARIAN ACCOMMODATION
The owner uses her passion for food to create delicious organic menus and treats, vegetarian and vegan options
BRIDGE BETWEEN CITY CENTER & NATURE
Located close to the historical city center of Florence & a green oasis in the Cascine Park
SINGLES, PETS & FAMILIES WELCOME
Warm and inviting rooms & services for all travelers, traveling solo or as a family
Newly redecorated with an eye for combining colors to create a peaceful retreat while on holiday in the lovely city of Florence and Tuscany. The B&B La Nuvola Sospesa was thought out to offer a calm and relaxing "nest" where travellers would feel comfortable and permit them to maintain their selected lifestyle even while discovering the far corners of historic Florence and the stunning landscape that surrounds it. Chiara draws from her own personal experience to create a haven filled with organic, vegan and vegetarian options from the soaps in the bathroom to the breakfast buffet and, upon request, even full meals for lunch or dinner.
The B&B is the Spice of Life in Florence
There are three bedrooms which will accommodate up to four persons, making this a personal and friendly experience. The double bedroom is called "Paprika" with a blend of natural light and the warm colors of the spice it is named after. Chiara opted take elements from the traditional Tuscan decor, like the wrought iron bed stand and accent them with the bright orange shades. This bedroom has its own private bathrooms. There are two single bedrooms, named "Cannella" - which is cinnamon with its deep and rich earthy tones - and the other rooms is called "Zenzero", a name which means ginger in Italian. Both of these rooms boast a soft and pleasing decor, one that will set your spirit at ease after a day of exploring all the corners of Florence and Tuscany. These two rooms share a bathroom and are perfect for children and adults. A clothes washer & iron are available for guests.
When Chiara began to decorate the B&B she choose elements which were a natural extension of her style of living incorporating all the things she loves best about this corner of Tuscany and all favorite hobbies: art, music, yoga, horseback riding and cooking. The living room offers a stereo with a wide selection of CD's where one can take some time out and relax as if at their own home.
For those who are looking for a longer stay there is the option to use the kitchen and laundry room. When she sets the table for breakfast or evening meals you will see just how creative she can be using only the best including KM 0 foods and local organic fruits, grains and vegetables. A break in the day can include a few minutes with a special cup of tea on the balcony, contemplating your next adventure in Tuscany.
The Nuvola Sospesa can also be rented as one unit as an apartment rental for up to 5 persons. The apartment is complete with a private, fully equipped kitchen (silverware, plates, stove, oven, frigo & dishwasher). You get the apartment with and balcony with free WifI, all linens and towels for each room, and 2 bathrooms. If you stay 3 nights or more, Chiara can offer a discount for your stay.
There truly is something for everyone
Parents with small children on holidays will be happy to know that Chiara offers a babysitting service which gives them opportunity to be romantic and carefree for a bit of time while they are on vacation. An extra plus for those traveling with their favorite four legged companion, as long as they are small and well educated, they will always be welcome at B&B La Nuvola Sospesa.
Taste the Best of the Best in Tuscany
The B&B not only boasts a bio / vegan or vegetarian menu but they also add value to our holidays by offering a yoga lesson in the park, horseback riding in the nearby hills or a cooking lesson with the natural delicious ingredients of Tuscany. The position of the B&B, between the historic center and the Cascine, one of the largest green oasis in Florence, is ideal for those who like an early morning walk or jog before hitting the museums and monuments. Ask Chiara about borrowing the bikes for a ride along the Arno river or a detour the cobbled stone streets of the city center in search of the perfect gelato.
Meet Chiara, the owner of La Nuvola Sospesa
---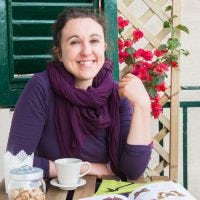 Hello, I live in the hills around Florence and I restore and decorate furniture. I like to think of myself as a joyful creator because I adore all things handmade! When I create I put all my love and joy into my creations - especially my cooking. I am a vegetariean and cooking for me is a true passion, where I can spoil myself and feel special. My breakfast creations are vegan and bio - and upon request I would love to share my curiousity and passion for horses, yoga, cooking and art.