Antica Dimora Firenze Luxury B&B - Antiche Dimore Fiorentine
---
Antica Dimora Firenze is a luxury bed and breakfast that belongs to the exclusive group Antiche Dimore Fiorentine (Old Florentine Homes), a small chain of charming residences located in the historic center of the city, away from the hustle and bustle of traffic and close to all major tourist attractions.
The B&B is located in a residential district, just steps from Piazza San Marco and the characteristic San Lorenzo Market, next to the magnificent Palazzo Pandolfini, an important monument from the sixteenth century.
Top 3 reasons you'll love Antica Dimora Firenze
WELCOMING HOSPITALITY
Giovanna and Michela are available to offer any advice, organize your days and recommend restaurants.
ATMOSPHERE
Cozy and refined, it makes you feel as if you were at a friend's home
FREE SERVICES
The B&B offers exclusive services included in your booking that will make your stay even more enjoyable.
The interior of Antica Dimora Firenze is stylish and comfortable, furnished with a particular care for every detail, just like a fine Florentine home of yesteryear.
Included in your stay
During your stay, you are welcome to use the following freely:
WI-Fi in your room and in communal spaces
All the basics to make yourself a cup of tea or coffee that you will find right in your room on a tray
In the living room, you can find hot drinks (coffee, tea), vinsanto and cantuccini biscotti
DVD player in the room and small DVD library at your disposal
The rooms
The bed and breakfast has six beautiful double rooms, each one unique. The walls of the rooms are painted with natural pigments, the curtains are made of colored silk, the four-poster beds lined with fabrics made ​​from an old Tuscan artisan company, the floors made of Florentine terracotta: all of these elements contribute to create a sweet and harmonious atmosphere.
Even the bathrooms, all ensuite, deserve a note: they are either painted with oil paints or decorated with precious marble of Carrara, a real touch of class!
Services
At the B&B you may spend time reading the books and guides you find in the common areas of the Dimora, use the computer freely, enjoy delicious biscotti dipped in Vin Santo, or prepare a coffee or tea all while enjoying the faint background sound of classical music. The goal is to make you feel as if you were in the comforts of your own home.
Upon request you can rent bikes, take cooking lessons, indulge in a Spa treatment or take a bike or vespa tour of the city or its surroundings. There is a private garage and supervised car park nearby where guests can enjoy special rates.
Meet Lea & Johanan, owners of Antica Dimora Firenze
---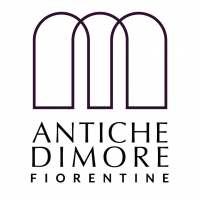 It all started 20 years ago. We dreamt of opening an English style guest house in Florence which didn't exist in the city at that time, and when Johanan inherited a beautiful home in the historical center our first Residence was born. We had great success and thus felt encouraged to open other small bed and breakfasts, all in the center, and thus our small group of charming B&Bs called "Antiche Dimore Fiorentine" was born. Today, Johanna I, Antica Dimora Johlea, Antica Dimora Firenze, Casa Tornabuoni and Casa del Mercato are part of our group.
Everything in the residences was personally selected by us: the furnishings, decorations, colors and every detail. Our guests, who receive keys to the house, come to feel like guests in a home thanks to the wonderful hospitality offered by our staff, who welcome guests to each of the bed and breakfasts as if it was their home.
We await your visit in one of our homes!
~ Lea Gulmanelli & Johanan Vitta