Antica Dimora Firenze Luxury B&B - Antiche Dimore Fiorentine
---
Antica Dimora Firenze is a luxury bed and breakfast that belongs to the exclusive group Antiche Dimore Fiorentine (Old Florentine Homes), a small chain of charming residences located in the historic center of the city, away from the hustle and bustle of traffic and close to all major tourist attractions.
The B&B is located in a residential district, just steps from Piazza San Marco and the characteristic San Lorenzo Market, next to the magnificent Palazzo Pandolfini, an important monument from the sixteenth century.
Top 3 reasons you'll love Antica Dimora Firenze
WELCOMING HOSPITALITY
Giovanna and Michela are available to offer any advice, organize your days and recommend restaurants.
ATMOSPHERE
Cozy and refined, it makes you feel as if you were at a friend's home
FREE SERVICES
The B&B offers exclusive services included in your booking that will make your stay even more enjoyable.
Modern conveniences in the city center
The bed and breakfast suites at Antica Dimora Firenze will make you feel right at home as soon as you cross the threshold. The interiors, both stylish and comfortable, are furnished in a manner reminiscent of the typical Florentine home of yesteryear. The fabrics in pure linen, precious oriental silks, the canopy beds made by Florentine craftsmen, the antique furnitures and the tile floors create a very special atmosphere.
The classical style and warm welcome extend beyond the enchanting decor, to include a wide range of modern accessories, like WI-FI in your room and in common areas, as well as privately controlled AC units in each bedroom. All bedrooms feature an en suite bathroom, all the basics to make yourself a cup of tea or coffee and access to the living room, where you can find hot drinks (coffee, tea), vin santo and cantuccini biscotti as you wind down after a day of visiting Florence and Tuscany. There is also a DVD player in the living room with a varied DVD library at your disposal.
At home in Florence
The bed and breakfast Antica Dimora Firenze has six beautiful double rooms, each one with a unique floorplan and personality, some feature a private balcony and many with glimpses of the city. The owner hopes that at her guests feel as if they have wandered into one of her private rooms in her home, where they will find home decor accents - like the antique clocks in each room. The colors and fabrics were chosen with criteria, and the walls are painted with natural pigments much like years ago. Even the bathrooms, all ensuite, deserve a note: they are either painted with oil paints or decorated with precious marble of Carrara, a real touch of class!
Breakfast, served in the sunny common room, is comprised of baked goodies as well as a platter of savory delights. Simple, hearty and fresh - this is the perfect way to start your day before exploring the city streets and museums. Ask your hosts at the front desk for information regarding tickets, helpful hints for restaurants and tours - they are well versed in the classic sites as well as a few of their personal favorites to get you close-up to the beauty of the city.
At the B&B you may spend time reading the books and guides you find in the common areas of the Dimora, use the computer freely, enjoy delicious biscotti dipped in Vin Santo, or prepare a coffee or tea all while enjoying the faint background sound of classical music. The goal is to make you feel as if you were in the comfort of your own home.
An adventure to be had
The area is calm and tranquil, practically all residential, yet at the same time less than 5 minutes by foot to the main bus hub for traveling to Piazza Michelangelo or Palazzo Pitti. You can easily walk to the many monuments and museums within the city center - absorbing the romantic vias and viales (streets and roads) filled with boutique shops, leather stores, restaurants and picturesque cafes.
There is a private garage and supervised car park nearby where guests can enjoy special rates, ideal for guests who are planning on visiting Tuscany, and its amazing landscapes as well as the Renaissance City. For those who prefer not to drive, you can walk to the Florence train station - a major hub for visiting Siena, Pisa, Lucca, Arezzo and even further away like Rome, Bologna and Venice.
Meet Lea & Johanan, owners of Antica Dimora Firenze
---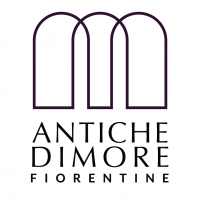 It all started 20 years ago. We dreamt of opening an English style guest house in Florence which didn't exist in the city at that time, and when Johanan inherited a beautiful home in the historical center our first Residence was born. We had great success and thus felt encouraged to open other small bed and breakfasts, all in the center, and thus our small group of charming B&Bs called "Antiche Dimore Fiorentine" was born. Today, Johanna I, Antica Dimora Johlea, Antica Dimora Firenze, Casa Tornabuoni and Casa del Mercato are part of our group.
Everything in the residences was personally selected by us: the furnishings, decorations, colors and every detail. Our guests, who receive keys to the house, come to feel like guests in a home thanks to the wonderful hospitality offered by our staff, who welcome guests to each of the bed and breakfasts as if it was their home.
We await your visit in one of our homes!
~ Lea Gulmanelli & Johanan Vitta