Perched on the green hills of Chianti near Greve
---
The family-run Agriturismo La Sala keeps it small and personal with 5 vacation apartment rentals which are ideal for 2-3 persons each (perfect for couples or small families). The tranquil setting and the inviting country decor set the scene for a relaxing and exciting holiday experience in Chianti.
La Sala is located less than 10 km from the center of Greve where you will find weekly markets, typical Tuscan pizzerias and restaurants, cafes & as well as many stores with local products. The agriturismo invites you to slow down your holiday pace and enjoy the genuine atmosphere of Italy and the Chianti countryside.
Whether you are hiking the many paths near Agriturismo La Sala, biking through the countryside or even heading into Florence to enjoy the museums, monuments and magic of the Renaissance city, you will find your connection to the real Tuscany.
Top 3 reasons you'll love Agriturismo La Sala
EXPLORE CHIANTI'S NATURAL BEAUTY
Set on 18 hectares of Chianti splendor & olive groves, the apartments are immersed in tranquility & relaxation
THE MAGIC OF CHIANTI
Find a place that speaks to your heart with long walks in the vast forest & stunning views that surround the agriturismo
NEARBY TOWNS & RESTAURANTS
This haven within the Tuscan landscape is only a short distance from Greve in Chianti vineyards & Florence museums
The scenery that greets you at Agriturismo La Sala will captivate you from the very first moment, set at 560 meters, perched above Greve in Chianti and the valley below. Surrounded by 18 hectares of uncontaminated forests, the family-run estate's olive groves and organic vegetable garden will make it impossible not to fall in love with the beauty of Tuscany. The five vacation rentals have been restored and accommodate 2-3 persons each keeping the experience at the agriturismo personal and tranquil.
Countryside with Accessories
The holiday apartments have been carved out of two main structures on the restructured farm, and while maintaining their country charm are fully equipped with modern accessories. Each self -catering apartment features a complete kitchen with microwave oven, a double bedroom, a private bathroom and stupendous views overlooking the Chianti hillside. Guests will have access to free WiFi and smart TVs with satellite. The vacation rentals come complete with all necessary bed, bathroom and kitchen linens, which are changed out weekly.
The apartments are ideal for a honeymoon in the silence of nature or a couple on a romantic getaway filled with long walks exploring the unique magic that surrounds Agriturismo La Sala. Small families will enjoy the large garden areas and there is a well-equipped playground area for younger guests. Everyone has access to a pool, situated in a sun exposed hill supplied by the natural shade of nearby trees. The well-maintained gardens are available to everyone with tables and chairs in select spots which highlight the panoramic views. There is covered parking area near all of the apartments.
Cozy Accommodations
The stone built farmhouse still maintains that special charm featuring dark wooden beams, terracotta floors and marble counters in the kitchen. The apartment La Loggetta, boasts walls over a meter thick, suggesting that perhaps it once stood as a "tower-house" in the Middle Ages. Suitable for up to three persons with a double bedroom and sofa bed, this apartment also has a lovely terrace and an original wood burning oven. La Terrazza is the smallest of the apartments, perfect for two persons looking for absolute relax and a bit of romance.
The apartment Fienile, a word that translates into barn, is set on two floors and promises some of the most stunning views. This is the largest of the five holiday rentals and is comprised of a double bedroom, living room with fireplace and a corner kitchen. There is a sofa bed in the living room for an extra person or a young adult, and a crib is available for young children upon request (crib is available free, note that kids under 3 stay for free, too). The vacation apartment La Loggia will accommodate up to two persons in a large airy open space.
The tower apartment is perfect for 2 guests and has air conditioning.
Easy to Explore
Positioned within walking distance of a small, yet authentic Tuscan pizza restaurant, you will find that Agriturismo La Sala is the ideal mix between capturing the silence and stillness of the countryside while also offering the convenience of being close to cafes, bars, markets and exciting towns like Greve in Chianti, Panzano and even Florence.
You can spend your days poolside, hiking or using one of the bikes that are available at the farm (2 mountain bikes are free to use, when available). Your hosts are available to provide assistance when you need it, as you will find that they are discrete, leaving you on your own to enjoy the beauty of their home and olive grove.
The proximity to towns and cities allows for guests to plan day trips to some of the more iconic locations in Tuscany, including towns like Siena with its impressive Duomo or San Gimignano, well known for its tall towers and quaint town streets. Reserve your spot to climb the Leaning Tower of Pisa or mark your calendar for the Antique Fair in Arezzo - activities and opportunities abound year long in Tuscany.
Agriturismo La Sala, perfectly combines the beautiful secrets of the Chianti countryside with the amazing wonders of medieval towns, Renaissance cities and a delicious cuisine.
Please note the family speaks Italian, English, French & Russian. Rentals are from Saturday to Saturday with 7 nights minimum required, between end of May and end of September, when the farmhouse is open. Shorter stays are possible but depend on availability.
A Romantic Adventure in Chianti with Carla & her husband Sandro
---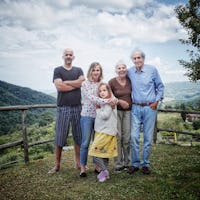 From the clear blue waters of the Tuscan coast to the rolling green hills in Chianti, the family looks forward to introducing you to their little piece of paradise with its olive groves, rich forests and spectacular views. They made the move to Chianti for their own personal enjoyment and realized it was a special place to be shared. Enjoy their hospitality, their vegetable garden and their passion for Chianti.