---
Eco Friendly B&B Near Florence with Scenic Vistas
Map & Address
Porcigliano
via Tassaia 46 b
50032 Borgo San Lorenzo (Florence)
coordinates:
43.901093 latitude
11.342375 longitude
The lush green hills and the splendid panoramic position combined with the luminous and meticulously decorated B&B bedrooms give the air of entering into a fairy tale. The well tended garden which surrounds Porcigliano is full of fruit trees, the sweet perfume of several types of flowers, rows and rows of grapes and a vegetable garden - all of which provides the base for several of the breakfast treats and impromptu snacks.
Gabriella and Ferdinando, have opted to have only three rooms where they invite travellers to celebrate the beauty of Tuscany. Their philosophy includes creating an environment friendly retreat where guests can kick back and enjoy a slower style of life, in a natural setting of their eco-friendly B&B built on the antique remains of the tower of this medieval hamlet.
The Porcigliano B&B is an ideal base for a vacation back to nature with long peaceful days spent in the cool and panoramic garden, hiking the many nearby trails, exploring closeby hamlets and the exciting city of Florence, which is possible to reach by bus.
Top 3 reasons you'll love Porcigliano
ECO FRIENDLY PHILOSOPHY: the entire structure has been restored and furnished with an eye on keeping things natural, comfortable and local
PERSONAL ATTENTION: you will bask in the reception and hospitality of the owner, who has years of experience helping guests feel right at home
ENCHANTING LANDSCAPE: nestled on the edge of a typical Tuscan hamlet, the B&B boasts a quiet corner in paradise with panoramic vistas
Private and Quiet, perfect for true relax
The B&B is set on two floors, and all three bedrooms are on the first floor where they garner not only the fresh cool breezes of summer but the best views of Apennine mountains. The ground floor houses the conservatory and the kitchen, both rooms are used for breakfast or a quiet spot to relax inside. The bedrooms boast a country motif with delicate colors and a charming mix of typical Tuscan furniture. These large and luminous rooms clearly show Gabriella's solar personality mixing the old with the new. She has found the perfect place to display her collection of contemporary art museum posters from her extensive worldwide travels. Wi Fi is available through the structure even in the cozy common room with fireplace. Each room has a particularly spacious en suite bathroom with shower. Every room is fully furnished with linens which have been washed and dried under the warm Tuscan sun. Personal touches such as sachets of home grown lavender and decorative throw pillows grace the rooms.
Surrounded by the Wholesome Goodness of Tuscany
The vegetable garden, fruit trees and vineyard are cared for by Ferdinando, the silent but always active partner - you can normally catch him early in the morning, just follow the perfume of a bubbling espresso. Gabriella, a whirlwind of activity - but never too much, is in charge of greeting the guests, preparing special treats at tea time and the author of a fortifying breakfast including local cheese, salumis and her specialty - fresh eggs with garden cut herbs. The breakfast is served in the white washed conservatory -- or you can take your breakfast out to one of the many little picnic areas in the rose scented gardens….beware however there just might be a cuddly little rabbit waiting for you and some of the local organic fruit on your plate. The B&B is surrounded by a colony of domestic rabbits gone wild, they love to stretch out in the sun and nose around in the garden. And when you are not caught up in the antics of these adorable creatures you may catch a glimpse of a deer or pheasant crossing through the garden.
Respecting Nature
The house, sits on 3 acres of land planted with fruit and olive trees, and was built in the early 60's on the ruins of the tower of Porcigliano dating back to the middle age. It was carefully renovated following the guidelines of "sustainable building" from 2002. External walls were fitted with rigid insulation cork panels, windows with double glazing and solar panels for hot water. Gabriella and Ferdinando have also taken measures to reduce the amount of waste. Paper, plastic, glass, tins are all recycled using the local collection system and all the kitchen waste are composted. The home grown produce is obtained without the use of artificial fertilizers or chemicals. Gabriella works to create a secure and welcoming environment for her guests, so reservations are a must, however you will agree once you arrive that she is quite a source of information. She keeps updated on local activities, town events and is a wealth of information when planning your travels throughout Tuscany - not to mention a delightful storyteller; over a typical Italian coffee . . . or glass or wine, she will tell you stories of Florence and the local landscape. This is a small family run operation and they are not equipped to accept credit cards.
The Other Side of Tuscany
Located above the town Polcanto, the B&B Porcigliano compliments the natural setting and the many little points of historical importance throughout the nearby countryside including the amazing sanctuary Monte Senario and the picturesque town Borgo San Lorenzo. A leisurely walk in the nearby woods and one will find many abandoned buildings or restored areas like Badia del Buonsollazzo, a monastery dedicated to St. Bartolomeo. Down in the valley, a walk along the one of the nearby streams before heading over to the local restaurants for dinner. The B&B is only minutes away from public transport which will put you in Florence in approximately 20 km of panoramic scenery and the trip is less than 15 km to Fiesole with a wide selection of quaint restaurants and pubs.
With the help of Gabriella you will be sure to find many of the other beautiful sites to see in Tuscany she is well informed on the local activities. Casentino, with the vineyards of Frescobaldi, castles and traditional foods is less than 40 km away and promises a scenic tour through the Tuscan countryside. Chianti and the many medieval hamlets that dot the hillside make for a lovely day trip, stopping for some shopping at the local markets and a bit of wine tasting. And she will be sure to tell you not to miss visiting Lucca and its one of a kind town square.
---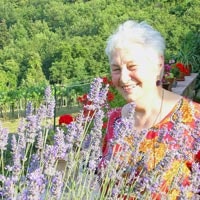 Meet the Owners of Porcigliano
We are both 100% "made in Florence", having been born and lived in Florence for most of our lives. At a certain point, we decided to leave the city, changing life by moving to the countryside. We sought a peaceful, and cooler place not far out of Florence, and found this beautiful house with 3 hectares of land in 1999 in Polcanto, just 30 minutes from Florence. The house, in need of major structural repairs, was renovated with environmental-friendly materials. The job was long and we learned a lot in the experience.
Today, we continue caring for our environment by recycling, reusing and saving to reduce as much as we can our impact on our environment. Our life is made up of lots of simple and natural things... which go right alongside with an Internet connection and WI-Fi! Our first B&B guests arrived in 2006 and we have enjoyed sharing our little paradise with all of them ever since!
~ Gabbriella and Ferdinando
---
Secure online booking on Booking.com at lowest rate guaranteed!
---
Nearby, we also suggest
---